Calculus VCT – Now open for subscription
Calculus VCT is open for subscription – invest in the brightest, growing UK businesses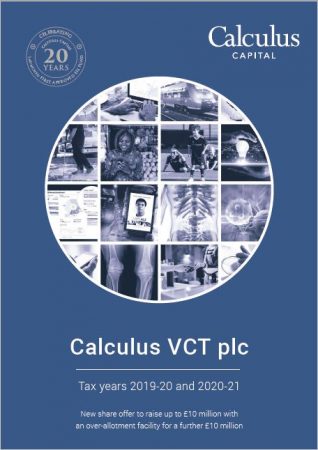 Calculus Capital has launched a £10 million fundraising for the Calculus VCT, offering a target annual dividend of 4.5% of NAV and capital growth.
The proceeds from the fundraising will be used to invest in new companies and to provide additional funding to existing portfolio companies.
The Calculus Capital VCT invests alongside the Calculus Capital Enterprise Investment Scheme (EIS) fund, giving investors in both the VCT and EIS fund exposure to larger deals.
Over the past 20 years, Calculus' focus and investment has remained consistent: building diversified portfolios across a multitude of sectors, of smaller, UK, entrepreneurial growth companies and creating value for our investors through our multi award winning funds – providing significant results for our clients either via tax free dividends (for our VCT investors) or tax free capital gains (for our EIS investors).
An early bird discount of 0.5% is available on investments made on or before 31 January 2020 and existing Calculus VCT investors will also benefit from a 0.5% loyalty discount.
Download the VCT brochure and application form now.
For more information please get in touch with the Investor Relations team on 020 7493 4940 or [email protected]