Calculus VCT – Now Open for Subscription
Calculus Capital launches VCT fundraising – providing exposure to a diverse portfolio of entrepreneurial growth companies
Calculus Capital has launched a £10 million fundraising for the Calculus VCT, which aims to deliver investors an annual dividend of 4.5% and capital growth.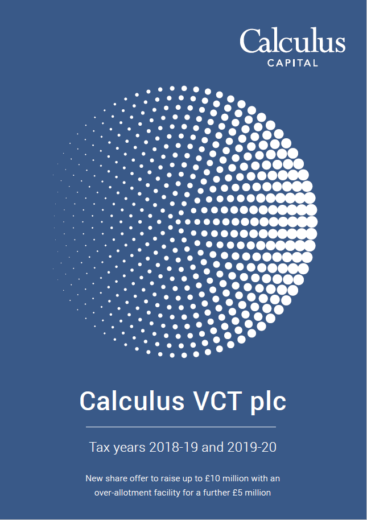 The proceeds from the fundraising will be used to invest in new companies and to provide additional funding to existing portfolio companies.
The Calculus Capital VCT invests alongside the Calculus Capital Enterprise Investment Scheme (EIS) fund, giving investors in both the VCT and EIS fund exposure to larger deals.
Calculus Capital is a multi award winning EIS and VCT provider with 20 years invaluable experience investing in entrepreneurial businesses with strong growth potential, backing enterprises from a broad range of sectors and industries, including technology, life sciences and healthcare, environment, retail and leisure.
The key characteristics of the companies in which Calculus invests include:
Strong management teams
Their primary constraint to growth is access to finance
A clear market need
Proven and competitive products and services
A clear route to exit
An early bird discount of 0.5% is available on investments made on or before 1 February 2019 and existing Calculus Capital investors will also receive a 0.5% discount.
For further information please get in touch with the Investor Relations team on 020 7493 4940 or [email protected]