Chop'd named 'One to Watch' at Growth Investor Awards
Chop'd were last night given a special mention as 'One to Watch' in the Growth Champion of the Year category at the 2017 Growth Investor Awards. The Growth Champion of the Year Award is the UK's highest accolade for SMEs that have received venture capital or EIS funding.
Chop'd recently opened their 18th site in Westferry Circus, Canary Wharf and have expanded outside of London with sites in Manchester and Liverpool.
Calculus Capital were also delighted to be runners up in the Best EIS Investment Manager category, an accolade previously won by Calculus in 2016.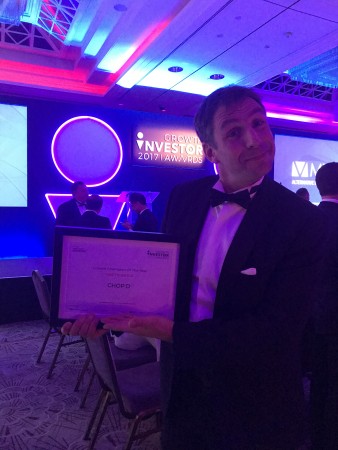 Chop'd CEO Eddie Holmes with his award
The Growth Investor Awards celebrate the role of the UK SME investment community in job and wealth creation, recognising those enabling start up and 'scale up' businesses to realise their full potential and drive Britain's economic recovery.