Chop'd – Sustainability and food provenance
Eddie Holmes, MD of build your own salad chain, Chop'd, has been featured in a Food Spark article discussing sustainability, food provenance and the use of locally produced products.
Calculus Capital first made an investment in Chop'd in June 2014 and, since then, Chop'd has grown to 16 sites, 12 located in London and four in the North of England.
Chop'd is a pioneer in the healthy eating restaurant space, with sites across the UK offering 'quick-serve' and 'create-your-own' salads, wraps, soups, stews and breakfast.
Over the last year, Chop'd has refreshed the store design of its entire estate. This was recognised at the recent Restaurant Marketer & Innovator 2018 awards by winning the "Best New or Improved Visual Identity" category.
Sustainability
Chop'd salad bowls are 90% recyclable and made in England, however, Chop'd has gone one further and sourced compactable bowls that are reusable and can be purchased at cost price, with customers receiving a loyalty card if they use the bowl (pictured below) entitling them to a free salad every ten visits.
Commenting on the bowls, Eddie said:
"It's sold out. We had to reorder the supplies three times,"
"When we first did it, they wanted to order 2,000 and I said, 'No, I do not want to be left with a huge amount,' but now it's getting up to that amount sold in seven weeks. We have always been responsible with our packaging. If you don't take a carrier bag, we give you an extra vegetable item. We have saved two million bags by doing that. It's part of what we think a responsible company should be doing."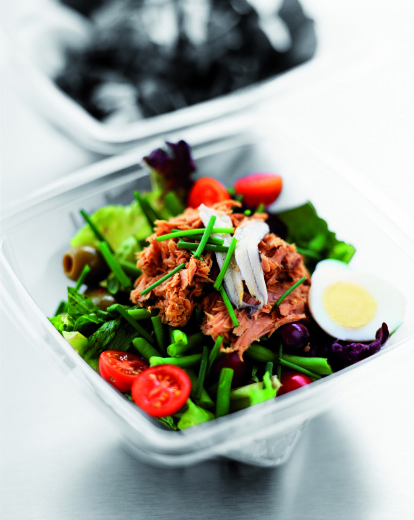 Local sourcing and food provenance
Chop'd is focused on sourcing British ingredients, with three vans delivering vegetables in store every day. Its apples come from Kent, tomatoes from Sussex and asparagus from Berkshire, while the organic tofu is made in Brick Lane. Smoked salmon comes from East London and fresh chicken is sourced from a farm in Essex.
Eddie Holmes: "More and more with all the food scandals going on, I think if customers can see stuff that is locally produced, then it's very popular,"
Micro Greens
Micro greens have been one of the most popular salad ingredients and are grown hydroponically in Deptford, using an old industrial space.
Eddie believes there is great potential in these ingredients:
"Take broccoli cress – there are 40% times the nutrients than normal broccoli. So with the micro cresses you get all that nutrition in a couple of mouthfuls,"
"We developed salads, and my favourite is that we have a soba noodle salad with English roast beef, which is cooked amazingly and comes with wasabi cress, and it's only six or seven hours old when it gets to our shop."
"It's harvested six or seven miles away from shops, so it keeps miles down, it's free of pesticides and a wonderful product, so I think using products like that could well be a way forward for us generally, as it's so much more efficient than growing at a farm."
Mimicking meat
Eddie doesn't believe that meat alternatives that emulate the real thing are the right fit for Chop'd:
"I think we should be celebrating vegetables and natural proteins, rather than dressing up something that it isn't. Don't call it a burger, but a veggie patty or falafel, and make food honest rather than disguising it," 
Read the Food Spark article in full here