How trampolining could become Britain's new fitness craze
As trampoline parks spring up all over the country, Oliver Astley from the Guardian looks into the new craze and features Calculus Capital's portfolio company Jumptastic.
The gate opens and about 100 children, and a handful of adults, fan out and start bouncing as if their tops were made out of rubber and their bottoms were made our of springs. Every day, the scene plays out up and down the country, from Inverness to Cornwall.
Three years ago, trampolining was confined to gymnastics clubs, schools and back gardens. Today, there are around 120 trampoline parks in the UK, which provide people with about 250,000 hours of exercise per week. That's a lot of cardio, countless calories burned, many legs strengthened and, encouragingly for most jumpers, it even feels a little like exercise.
If you are – nominally at least – a grownup and have never released your inner Simone Biles by landing a forward somersault, the local trampoline park is the only game in town. There is a risk of injury but the adrenaline rush is powerful. Bounce forward, tuck, spin, stick your legs out, land on the airbag, throw your arms out then take a second to imagine the applause. This is clearly an activity that is not just for children. It is for childish adults too.
Roughly 20% of regular bouncers are over 18 – largely parents, some reluctant and some enthusiastic. On the enthusiastic side, there are the fun mums, confident in the resilience of their pelvic-floor muscles, and the over-excited dads. The latter are probably at the greatest risk of injury; the former probably better attuned to the health benefits.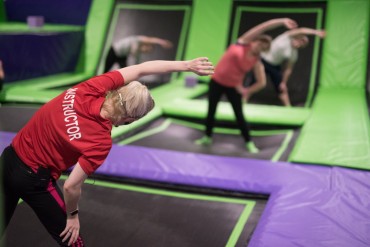 Calculus Capital, which usually works with life-sciences, healthcare or technology firms, has just invested £3m in Gloucester-based trampoline-park operator Jumptastic, believing that the trend has strong commercial legs.
Calculus chief executive John Glencross says: "Trampoline parks are a relatively new attraction in the UK but the sector has grown strongly in the US and the activity is quickly establishing itself here. Jumptastic is targeting the UK market but is also looking beyond the UK to continental Europe, including Scandinavia.
"In places where summers are short and the weather unreliable, parents will always want to take children somewhere relatively cheap, good fun and thoroughly exhausting."
To read the full article, please see here.