Collagen Solutions
Sector:

Healthcare Services

Invested in: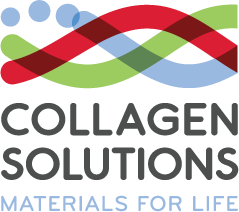 COMPANY
Collagen Solutions is a global provider of medical grade collagen formulations and components for use in regenerative medicine, medical devices and in-vitro diagnostics and research. Collagen is a major protein whose uses include wound care, tissue scaffolds and cartilage repair.
In June 2019 Collagen Solutions raised £5.96m of new capital, including a strategic investment from Rosen's Diversified, a multi-billion dollar, family owned business involved in food production, agrichemicals and distribution and operating the 5th largest beef processing company in the US. The strategic investment in Collagen Solutions will provide accelerated access to one of their targeted growth sectors – animal tissue related biomedical products.
INVESTMENT RATIONALE
Collagen Solutions is headquartered in Glasgow and has commercial offices in Seoul, South Korea and Minneapolis, USA, as well as R&D and distribution services in San Jose, California. The Company is at the forefront of innovation in collagen production, as well as being intrinsically involved with the customer R&D and academic research in San Jose. Collagen's products are used in a wide variety of applications including orthopaedics, cardiovascular, dental, plastic surgery, wound healing, neurology and urology.
The most recent investment by Calculus will help accelerate growth and fund a new business strategy of proprietary product development.