Fiscal Technologies
Sector:

Software & Services

Invested in: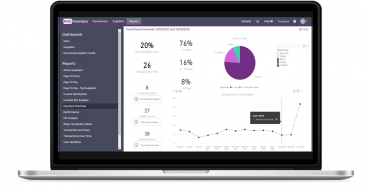 TRANSACTION
Calculus VCT has invested in FISCAL Technologies, a world leading provider of forensic financial solutions and services to protect organisational spend.
COMPANY
FISCAL Technologies has processed over 1 billion transactions over 10 years and protected £5 trillion in organisation spend. It is now relied on by leading corporations and public sector organisations across the globe. It incorporates unique forensics technology combined with machine learning and AI to reduce risk, fraud and compliances issues in the Procure-to Pay function.
FISCAL's NXG Forensics® enterprise solutions are used on a continuous, preventative basis to protect supplier spend to increase profitability and drive process improvement. In addition, the outputs from the NXG Forensics® solution have been used to deliver payment assurance, removed the need for resource heavy audits and have facilitated informed decisions for process improvement.
Designed specifically for Finance, P2P, Shared Services and Accounts Payable (AP) teams, NXG Forensics has been developed from their own in-house expertise. Unique to AP optimisation, it employs machine learning to automatically adapt tests and logic to meet each organisation's specific data structure and processes. These tests use industry recognised logic, financial analytics and unique complex algorithms, to identify risks within the supplier transactions with great accuracy and clarity. Sitting in the Cloud, it offers a secure connection to any ERP system to deliver results of AI generated complex analysis in understandable and easy to act upon dashboards. In addition, the team of AP and Recovery experts support customers in returning lost capital, so that they can focus on their core operations, trusting that their P2P operation is delivering value back to the business.
INVESTMENT RATIONALE
Richard Moore, Co-head of Investments and Investment Director for the investment said: "FISCAL is an excellent example of a high-tech firm offering a valuable solution to real-world business problems. We've been impressed with how far the management has taken the business through its own resources and enterprise. It has an attractive proposition and we believe that with this capital FISCAL Technologies is a company with very strong growth potential."
The investment will be used to develop FISCAL's core UK market and increase expansion into the US, where it already has strong traction, as well as incremental product development.