Spotlight On: Collagen Solutions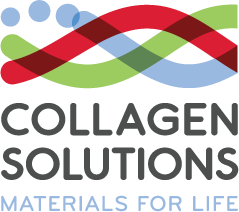 As part of our 'Spotlight On' series, we are focusing on Aim listed portfolio company, Collagen Solutions plc (Collagen), a global provider of collagen for use in regenerative medicine, medical devices and in-vitro diagnostics.
Collagen provides medical-grade collagen formulations and expertise in the development of collagen components. Collagen is used as tissue scaffold and in medical devices in a wide variety of applications including orthopaedics, cardiovascular, dental, plastic surgery, wound healing, neurology and urology.
Calculus originally invested in Collagen in 2014. Since then, the company has made significant progress, quadrupling revenues from its contract research and material supply business. Calculus completed an additional investment in March 2017 as part of a larger funding round aimed at supporting the refocus of the business from materials supply to development of proprietary products.
The company's first proprietary product, ChondroMimetic, is a scaffold designed to delay the need of joint replacement by stimulating the regeneration of both joint cartilage and the underlying bone. Current treatments of cartilage defects of the knee have not demonstrated sustainable efficacy beyond five years and/or have limited adoption due to cost and complexity. ChondroMimetic is positioned to address at least 30%-40% of this market. In February 2018, the company announced successful results from an extension clinical study of 15 patients who received ChondroMimetic in the knee eight years ago. These results demonstrate near complete filling of defects and regeneration of high-quality cartilage. The study has allowed Collagen to make an initial submission for CE Mark for ChondroMimetic.
Video: Presentation from Febuary 2018 Investor evening
[youtube id="vIxjFXRwkFM"]
Video: Interview with CEO, Jamal Rushdy, after Collagen applied for European approval following successful ChondroMimetic study
[youtube id="tOtQZeKfbRc"]
Information regarding the Collagen Solutions PLC share price can be found here.
Hardman and Co have also recently produced a research note noting the progress being made by Collagen Solutions. A link to the report can be found by clicking here.