Calculus VCT Now Open
The Calculus VCT is open for investment, targeting an annual dividend of 4.5% of NAV.
Early Bird Discount of 0.5% available until 2 February 2018 and an additional 0.5% discount available for existing Calculus VCT shareholders.
Click here to download the Brochure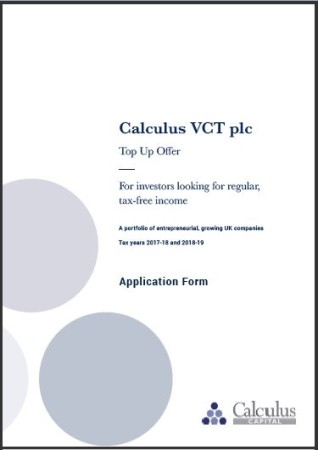 Click here to download the Application Form
Click here to download the Prospectus
Click here to download the Calculus VCT Key Information Document
Please email [email protected] with any questions
Calculus VCT
Experienced Venture Capital Investment Manager: Calculus Capital has over 20 years' experience investing in SMEs and is seen as a pioneer in the tax efficient arena, having launched the UK's first approved EIS fund in 1999/2000. Calculus has £147 million funds under management as at 5 April 2017.
Track Record of delivering dividends: The Company has a strong track record of delivering regular dividends to investors. A total of 84.66p was paid out by September 2017 per Old Ordinary Share. The Old Ordinary Share Class launched in 2010.
Target dividend: Calculus VCT is targeting an annual dividend of 4.5% of NAV. 
Investment strategy: The Calculus VCT seeks to make investments in VCT qualifying companies with the following characteristics:

Robust business model
Capable and experienced management team
Evidence of market opportunity
Capacity to achieve our target IRR of 20%
The minimum investment is £5,000. The maximum investment to qualify for income tax relief in any one tax year is £200,000.
Tax and share certificates are sent out within 10 business days of allotment.
Existing Calculus VCT Shareholders please click here for Shareholder Information.
Tax Benefits of VCTs:
Under current legislation investors in Calculus VCT will have access to generous tax incentives, subject to a maximum investment of £200,000 per individual per tax year:
30% income tax relief*
Capital gains on VCT shares are tax-free
Tax-free dividends**
RISKS
Investors should only subscribe on the basis of information contained in the prospectus, including the risk warnings, and should note that invested capital is at risk. Tax incentives are subject to change and their value depends on investors' individual circumstances.
The value of, and income derived from, VCT Shares may fluctuate
Investors may not get back the full or any amount originally invested
The market price of the VCT Shares may not fully reflect, and will tend to be at a discount to, their underlying net asset value
VCT qualification requirements may not be met or maintained
Past performance is not necessarily an indicator of future performance
Investors disposing of VCT Shares within five year of subscription are likely to be subject to claw-back of any income tax reliefs originally obtained
Investment in smaller unquoted companies can be difficult and may take considerable time
* Shares have to be held for at least 5 years to benefit from Income Tax relief.
** It should be noted that there is no guarantee of dividend levels nor preservation of capital value.
 For further information on the Calculus VCT, please click below: